Today, Friday 8th March, marks International Women's Day around the world. There are various initiatives running throughout the UK with events such as 'Empowering Women through Science and Technology, Celebrating Achievement' and a 'Name Your Heroine Competition' occurring today. A number of the genealogy websites have delved into their records to unearth heroines of the past who have furthered the cause of women's rights. From Emmeline Pankhurst to her daughter Sylvia, from Millicent Fawcett to Mabel Capper to Emily Davison who was tragically killed by King George V's horse in the Epsom Derby, there are numerous records around the turn of the 20th century of our ancestors campaigning and pushing for women's rights. The 'No Vote, no census' campaign was quite vociferous around the time of the 1911 census. As we can see from the examples below, those pushing for women's rights used the first opportunity people had to fill in their own census forms to make their point and further the cause. The 1911 census forms were deliberately spoiled to heighten awareness, some 102 years later these forms of protest have given us a unique snapshot into the struggles of the time and how hard these women campaigned. Worth celebrating on International Women's Day!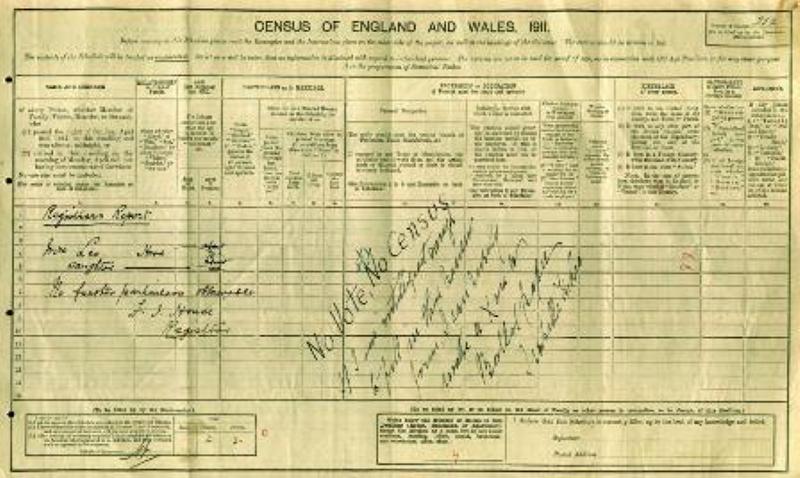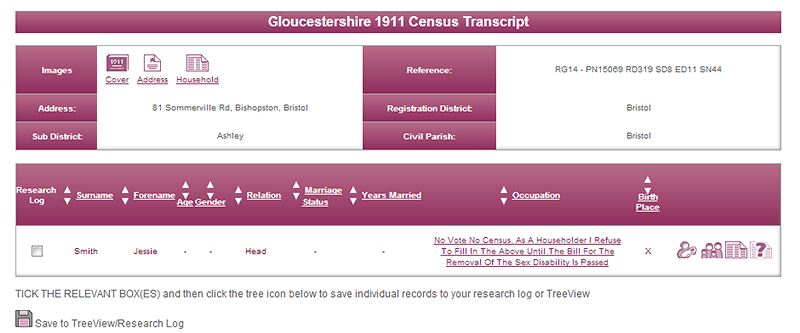 Comments
Anthony Brunning
4th June 2013 at 20:26
Can you give me the 1911 Census Household Schedule number for Jessie Smith mentioned above as living at 81 Sommerville Road, Bishopston, Bristol? I have tried without success to find the schedule in FindMyPast and Ancestry.
Thank you
davido
5th June 2013 at 10:51
Dear Anthony,
Thanks for your note. Using TheGenealogist.co.uk I found a Jessie Smith in Bristol- here is the link http://www.thegenealogist.co.uk/search/master/index.php?search_type=person&type=person&master_event=&fn=jessie&sn=smith&kw=bristol&year=1911&range=2&phonetic_mode=1&search=Search
I believe this Jessie Smith was a suffragette activist who passionately worked for the cause which would explain what she wrote on her census paper!
David
Family History Social