On this day in 1916 the German Navy's battle cruisers bombarded the north east of England. The Germans had hoped that the raid would draw out the Royal Navy's capital ships in pursuit of the raiders and so forcing them into engaging in a sea battle. Their tactic was for a large number of ships of the German High Seas Fleet to join the fight by following on behind. The British force, however, managed to avoid being drawn into an unbalanced fight with the bulk of the German fleet. Unfortunately for the towns attacked, signalling errors and deteriorating weather meant that the raiding ships managed to slip the Royal Navy's attempt to intercept them. The tragedy was that nearly 140 people – predominantly civilians – were killed and 600 were injured. Searching
TheGenealogist
website, I have found a contemporary report in one of the newspapers and magazines on this site which give a flavour of how enemy actions were reported in Britain.
The Great War
  periodical gives us the sense of British outrage, at the time, under the no holds bared title of 
Crimes Germany has committed
.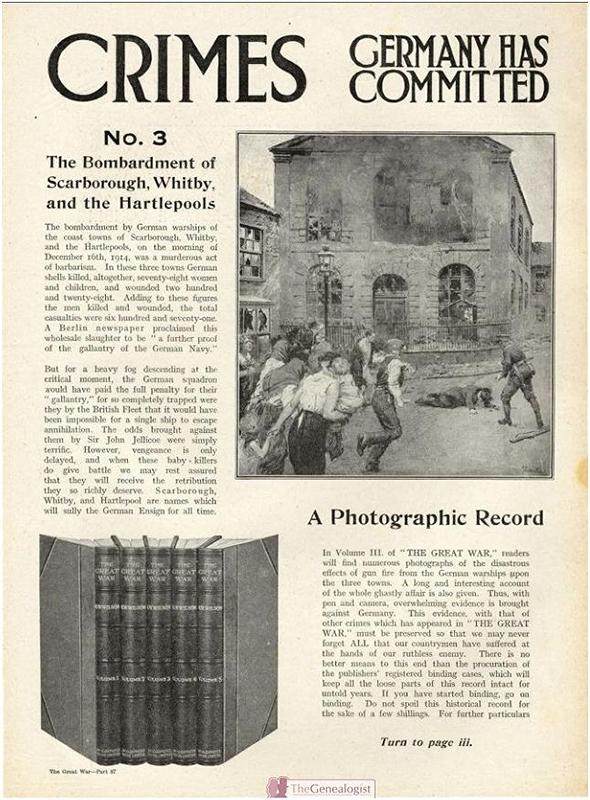 "The Bombardment by German warships of the coast towns of Scarborough, Whitby, and the Hartlepools, on the morning of December 16th, 1914, was a murderous act of barbarism." and later... "A  Berlin newspaper proclaimed this wholesale slaughter to be 'a further proof of the gallantry of the German Navy" If you are researching ancestors from the First World War then the articles in these publications on TheGenealogist can be very useful to fill in background and sometimes find an ancestor named in a report.