Tracing your family tree can often lead to some fascinating discoveries, surprising everyone in the family.  Some discoveries are good, some can be very tragic. As we approach the 11th November and Remembrance Day, we take a look at one family and how the war altered their family history. Using the 'smart search' features on one of the research websites I use- TheGenealogist.co.uk , we demonstrate how technology can help us remember those heroes of yesteryear.
This is a comprehensive way to trace your family history online through the years. The sophisticated 'master search' facilities allows us to follow a family and get a snapshot of their lives. With this example, we take a look at the family of Benjamin Freke, a family butcher from Bristol. Born in 1871, using the Master Search facility on TheGenealogist we find him.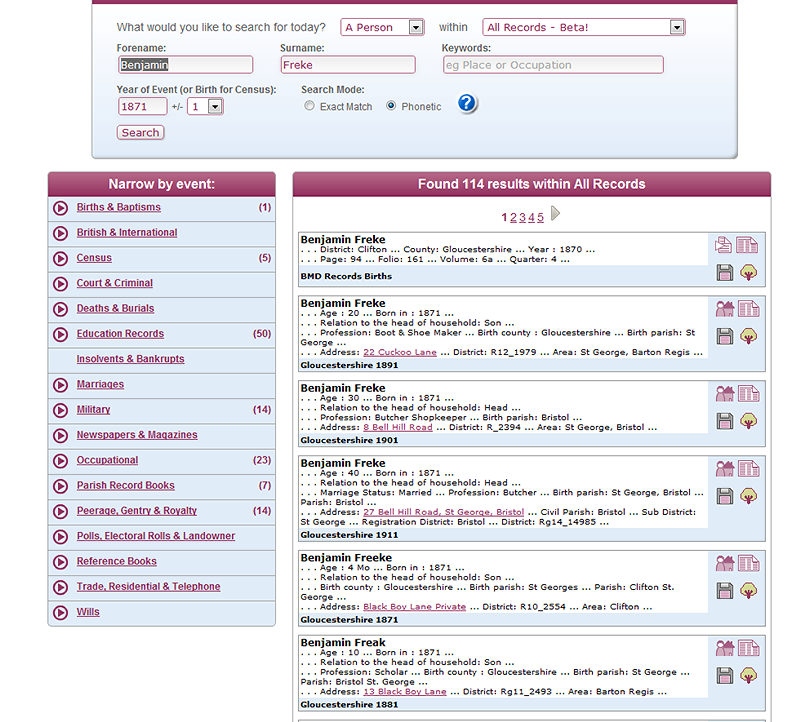 From the 1901 Census listed here, we find the records of Benjamin's two children, Frank and Albert. From here, we can find the birth record for (Benjamin) Frank Freke born in 1899.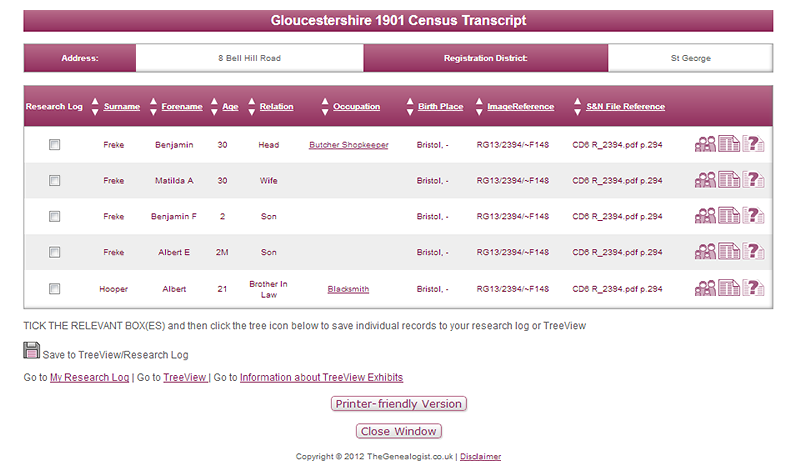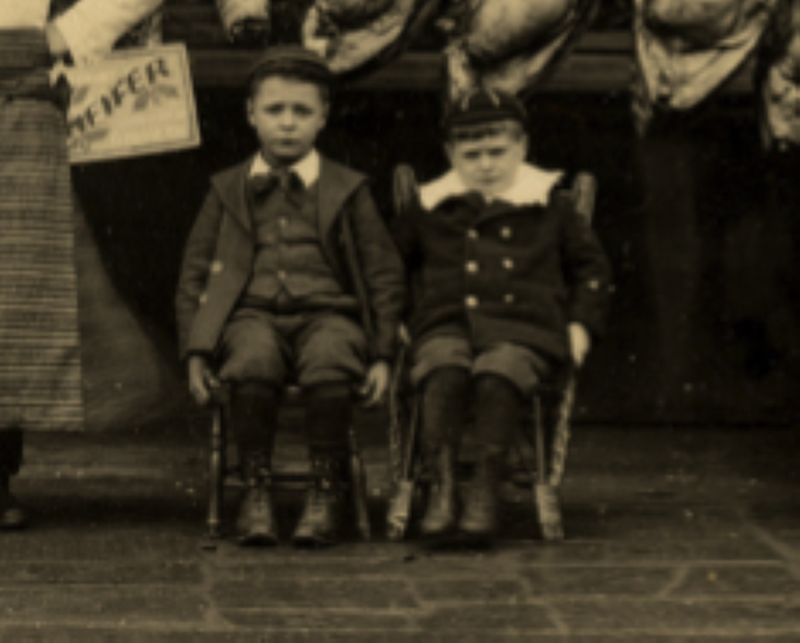 Frank and Albert (pictured above) are again picked up on the 1911 Census, as can be seen from the genealogy website I use: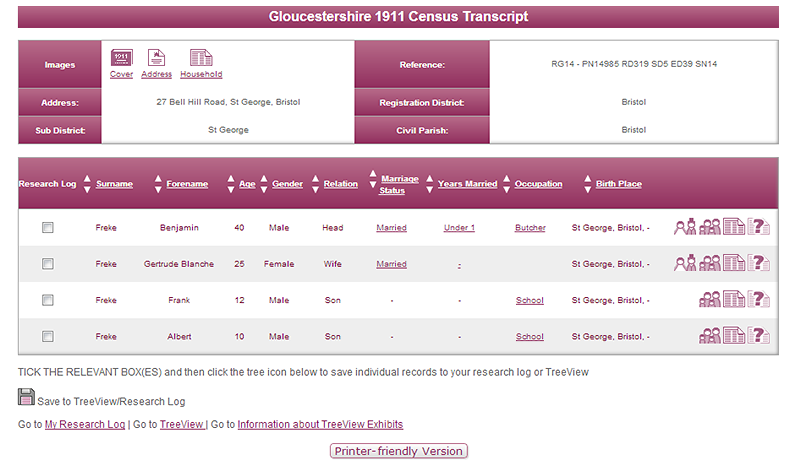 In 1911, Frank is now 12 and still classed as a scholar with his younger brother and probably destined to work in the family business in Bristol. On the census, he is listed by his middle name 'Frank' rather than his first name Benjamin, which can often confuse researchers. Frank was growing up in troubled times and with the dark clouds of war gathering, he would find himself by 1917, at the age of 18 obligated to join the fight against Germany.
The next fact we find about Frank is his listing on the research website where we find he was tragically killed in 1918 at just 19 years old.
We search in the 'World War 1 Deaths' section and find the details for Benjamin Frank Freke.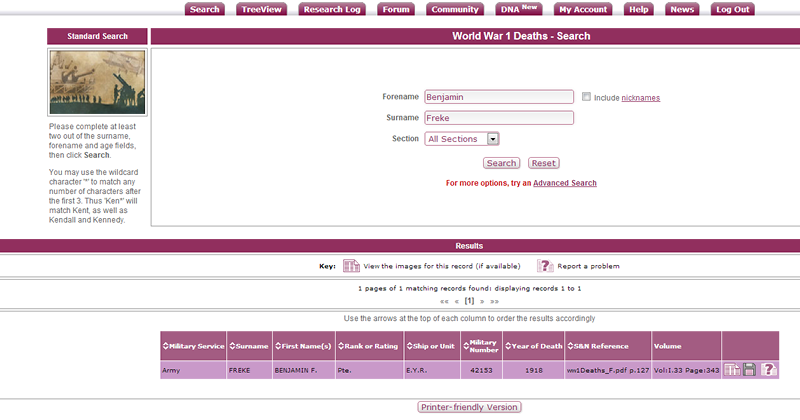 Private Benjamin Frank Freke is tragically killed in 1918 as is confirmed in the war death records as documented online.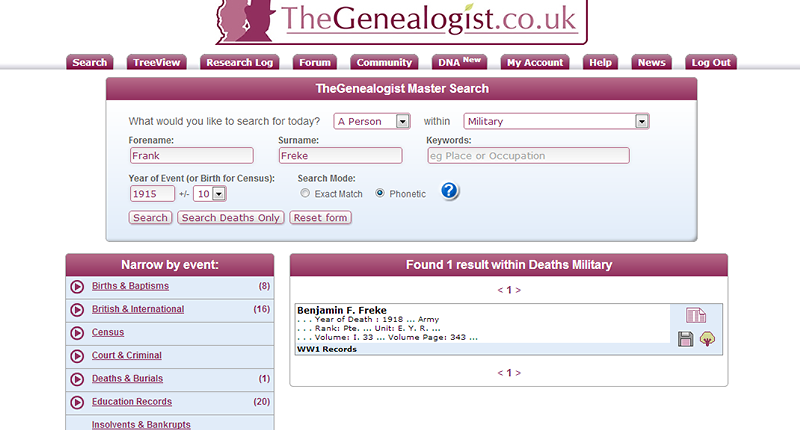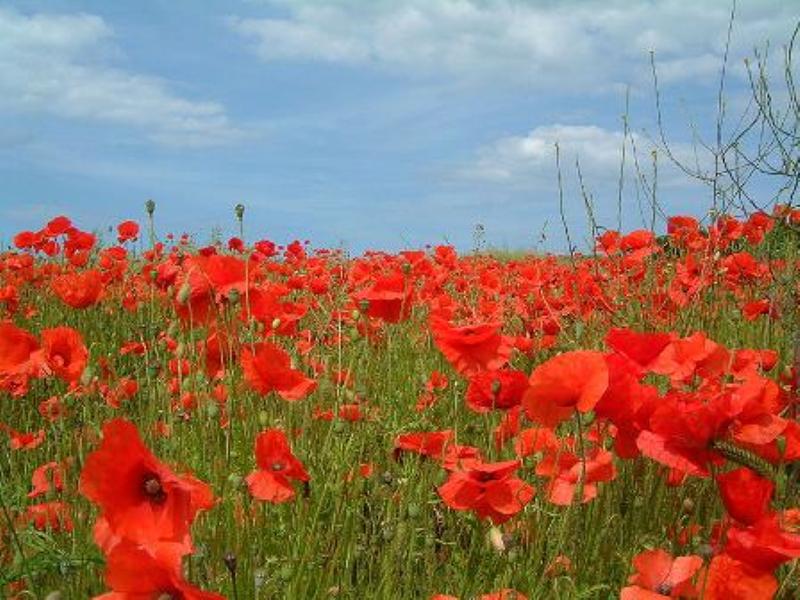 Using online family history research websites can help you find the heroes in your family. Using modern technology to find information about your family can lead you to discover things about them you never knew, including tragedies such as this one where a family loses a son in the Great War.
Comments
Frank Frede
20th March 2015 at 05:13
How surprised I was to find photos of both my uncle, after whom I was named, and my grandfather. Thank you so much for the memories. For information Albert migtated to Australia and changed the spelling of his name as he was entering the ministry. Uncle Frank's remains were not found until after my father had died and he always believed that it could well have been Frank whose remains were interred at the tomb of the unknown soldier. Frank is now resting in the British War Cemetety in Sissonne, France