Linking together the life of a relative can often be a difficult and time consuming task if you don't have much prior information to go on… however, I've found with my subscription to TheGenealogist that this process can be a whole lot simpler with its unique 'SmartSearch' facility.  This has been further enhanced by the addition of 14 million newly transcribed death records from 1960 to 1983 to add even more power to the search feature. With the total of 26 million death records for England and Wales from 1960 to 2005 now available on TheGenealogist, using the unique 'SmartSearch' feature, I've discovered we can now go from the death record from 1960 to 2005, to a birth record, to finding the parent's marriage to tracing siblings in very easy steps. The team at TheGenealogist tell me by Christmas the records should stretch back to 1930 adding even more power to our fingertips! As an example, I've used one of the newly transcribed death records on TheGenealogist to see a prime example of how the new records can really benefit your family research. I've taken the records of legendary T-Rex guitarist and vocalist, Marc Bolan, who tragically died in 1977 at the age of 29.
His real name was Mark Feld which we can now use to search the death records on TheGenealogist.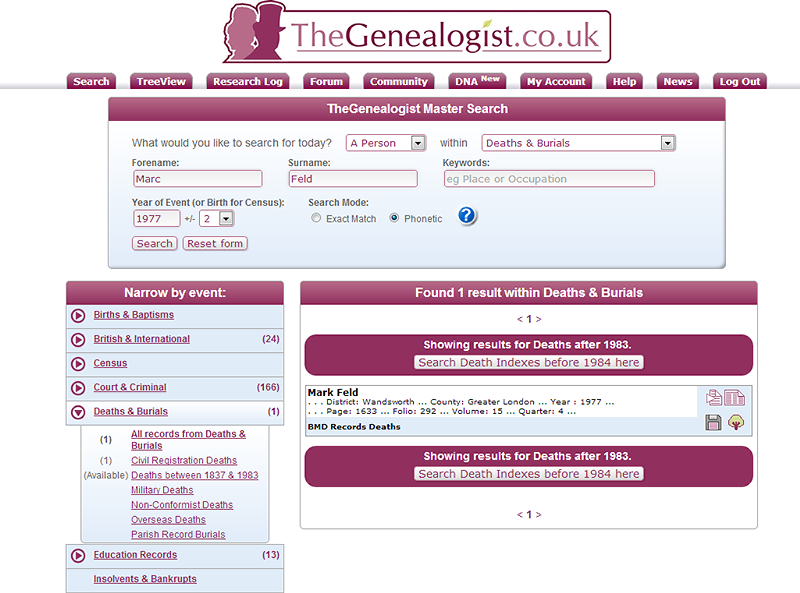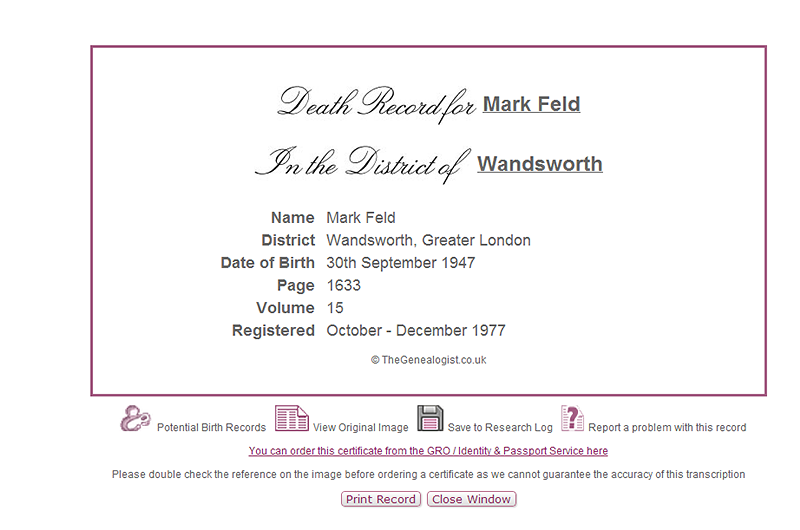 The 'SmartSearch' facility allows us to jump straight to his birth record which links to his parents and potential siblings. Mark didn't have a brother or sister but we can find full details of his parents Simeon and Phyllis (including marriage record below) which allows us to move onto the next stage of the family tree.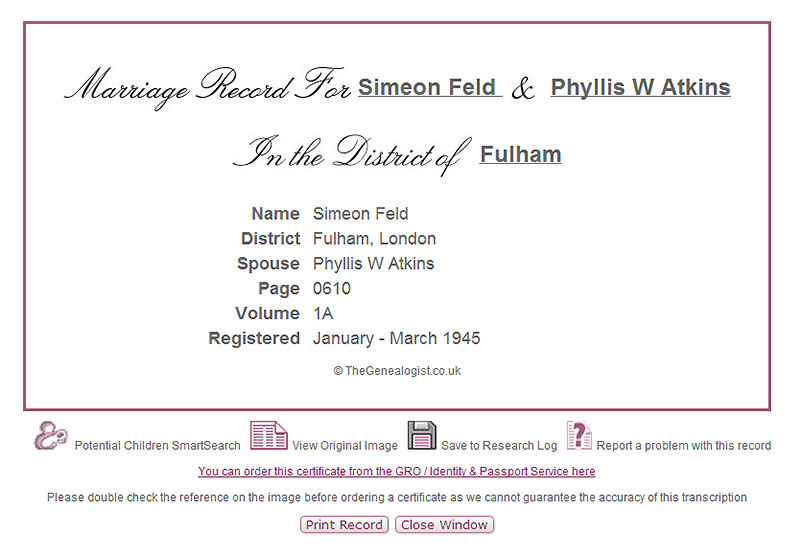 In my opinion, the 26 million death records now transcribed on TheGenealogist really enhances the 'SmartSearch' feature. From a death record it's now easy to jump to past generations with just a few mouse clicks. You can now start your research with just the basic data and still find results quickly. Searching is now quicker and easier than ever.
Comments
william woosey
25th December 2012 at 20:14
if i purchased a marriage certificate for 1804 would it show any of thier parents
davido
11th January 2013 at 15:41
Dear William, thanks for your note. It is doubtful whether the names of the parents would be listed. A marriage certificate from around the time of 1804 would not be a civil registration certificate, so would be a parish church one. Therefore, whether the names of the parents are listed depends on the register book used at the church or the enthusiasm of the parish clerk to record all the details!
EssexM
14th February 2013 at 15:43
There are many parish records available to view online now from various websites.
You could also try contacting the local family history society to see if they hold the records you require. I have ordered various parish records from local societies via www.genfair.co.uk
Hope this helps you