During the process of researching your family history, it is easy to mix up records if they are not recorded or stored carefully. Some researchers like to draw their family trees by hand or download blank charts, but the most popular method  is creating a family tree digitally, either using a software package or via one of the main online subscription websites. Although the main online family tree research sites offer increasingly more advanced functions, there is still a great demand for family tree software, especially when it comes to producing charts and storing large amounts of information about each ancestor. The various software packages have much in common: each has slightly different capabilities and system requirements and prices are fairly similar. Of the selection of family history software, RootsMagicUK ticks all the boxes for good value and great features. Now in its fifth updated version, the software can be run off a USB stick, allowing you to update your research from any PC. This software also creates superb wall charts and integrates with research sites. It is the top rated program in numerous reviews and articles which emphasise RootsMagic's ease of use and powerful features. This programme is ideal for novices. It boasts great book reports and allows you to upload pictures in narrative reports. The latest edition comes with seven free data CDs. RootsMagic has one of the most user-friendly interfaces and comes with a clear, concise instruction manual.
A taste of RootsMagic UK - User friendly screens and clear, concise reports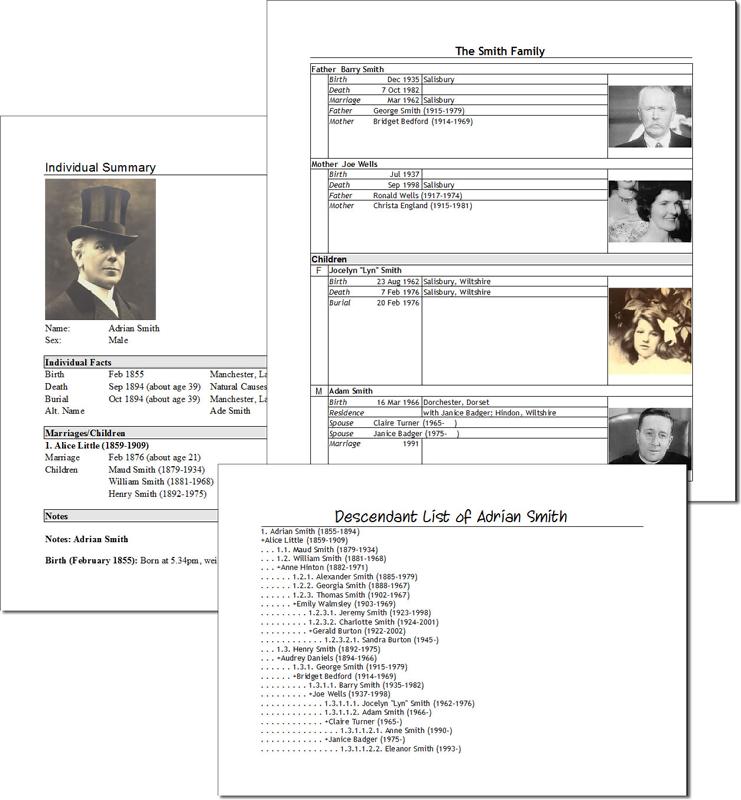 There are other quality examples of family tree software such as Family Historian and Family Tree Maker - all popular amongst both amateur and professional family historians - but I find RootsMagic to be the one for me. I purchased my copy from S&N Genealogy supplies, you can order a copy
here
.