Beyond the Death Certificate with Julie Goucher (1-hour talk)
Saturday, 23 September 2023 14:00 -Saturday, 23 September 2023 15:00
The Society of Genealogist's online talk this Saturday is one that will be of interest to many family historians.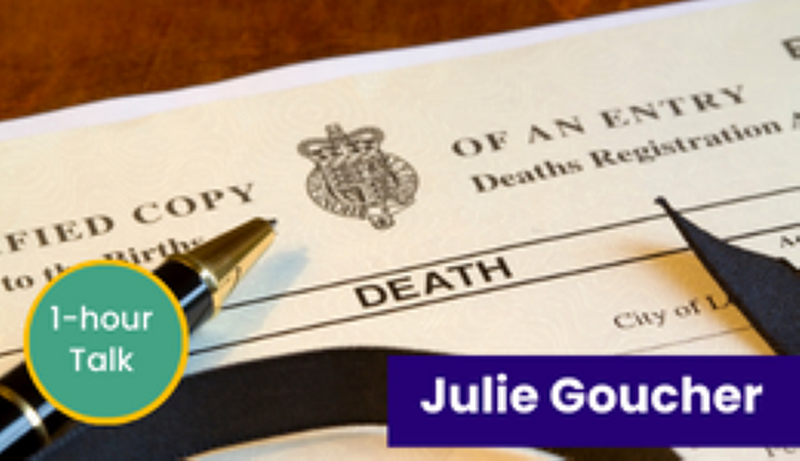 According to the SoG website in this presentation they will focus on looking beyond the Death Certificate. What happens when you register a death and the process through to the service/burial or cremation.
There are quite a lot of moving parts and in this presentation, Julie Goucher will explore how those parts slot together and why they might exist. We explore the differences between registration of a death in England and Wales, to that of a death in Scotland. Furthermore, they will consider the conditions on the death certificate which do not necessarily represent all the conditions that the person experienced, and how you might explore those, whilst being aware of the restrictions of accessing medical records.
The online talk will also look at context and how that is useful to give us insight. Also looking at tracking the genealogy of death conditions, effectively instead of having names, event dates and places, this is replaced by names, places, and causes of death and does this assist in. Julie will also look at the names of conditions and classification of conditions and the various relevant legislation. Whilst there are references to England, Wales and Scotland, this overall presentation is suitable to all.
https://members.sog.org.uk/events/63f60718e200a10008f152f2/description?ticket=63f60718e200a10008f152f4
£10 Saturday, 23 September 2023 14:00 - 15:00