New Passenger lists go online with unique search facilities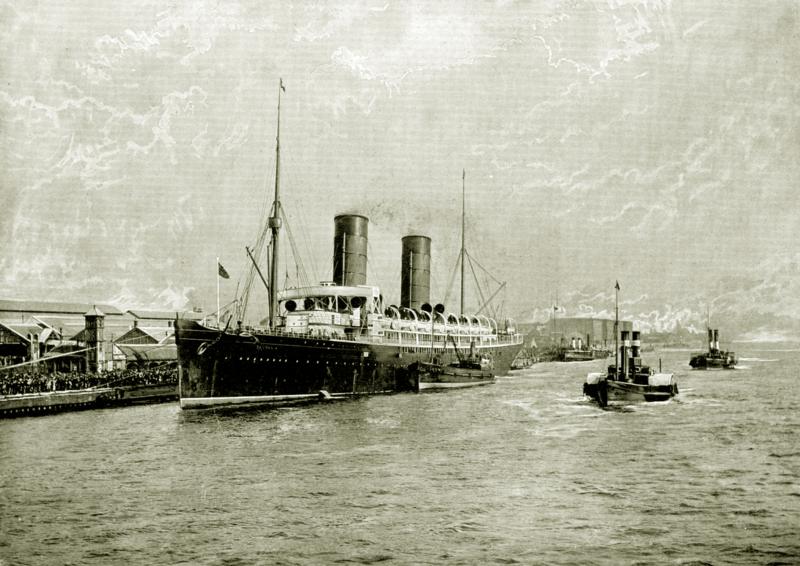 RMS Campania, one of the ships included in the passenger lists.
TheGenealogist has just released five million Emigration BT27 records as part of their growing immigration and emigration record set. Uniquely TheGenealogist allows you to track transmigration of people across countries routing through British ports on their way to America. TheGenealogist is the only website with the facility to discover families travelling together on the same voyage using our SmartSearch technology.
The new records, with original images, contain the historical records of passengers who departed by sea from Britain in the years between 1896 and 1909. These new records significantly boosts the already strong Immigration, Emigration, Naturalisation and passenger list resources on TheGenealogist.
TheGenealogist has further revealed that these records will be shortly followed by the release of many more unique migration records.
The searchable records released today will allow researchers to
Find people using British shipping lines and travelling to places such as America, Canada, India, New Zealand and Australia in the Passenger lists of people leaving from, or passing through the United Kingdom, by sea which were kept by the Board of Trade's Commercial and Statistical Department and its successors.
The Homestead Act of 1862 in America gave free land to settlers who developed it for at least five years, and became a particular magnet for Norwegians, Danes, and Swedes, who arrived in their millions. To reach America, it was necessary to travel initially to England in order to then board one of the large transatlantic passenger ships and this preliminary journey has been recorded for many transmigrant passengers within the BT27 records. For the first time these can be easily found using the unique transmigration button.
SmartSearch identifies potential family members travelling together. When our system recognises groups of people on the same voyage as a potential family it displays a family icon. This then allows you to easily view the family.
These fully indexed records enable family historians to search by name, port of embarkation, port of destination, country of departure, country arrival and nationality.
This release adds to TheGenealogist's Immigration and Emigration records that already include the useful Naturalisation and Denization records.
Those with ancestors who travelled out of Britain will welcome this fascinating new release from TheGenealogist that reveal the details of the coming and going of passengers and is a precursor of a set of unique records joining the collection shortly.
Nigel Bayley, MD of TheGenealogist said: "We intend to make researching migrating ancestors easier with our new smarter interfaces and adding more records covering a growing range of countries."
An example from the passenger list records:
Within the passenger lists, on TheGenealogist, we can find the passage of the Dunottar Castle from Southampton to Cape Town in South Africa on the 14th October 1899. One of the passengers was the young Winston Churchill who, at that time, was a member of the Press and was going out to report on the start of the Second Boer War.
Two days before his ship's departure the war had broken out between Britain and the Boer Republic. At the news of this conflict Mr Churchill had obtained a commission to act as a war correspondent for The Morning Post newspaper. In return he was to be paid £250 a month for his services.
After spending a number of weeks in the Colony he managed to get himself onto an armoured train, loaded with British soldiers, performing a reconnoitre between Frere and Chieveley in the British Natal Colony during November 1899. A Boer commando force, however, had placed a big boulder on the track and the train crashed into it. The Boers, having succeeded in stopping the train, then opened up with their field guns and rifle fire from a vantage position.
After a fight a number of the British were taken prisoner, but the locomotive, decoupled from the carriages and ladened with men, managed to escape. Churchill, unfortunately for him, was not one of those on-board the loco. Without his sidearm, which he had left on the train, he had no option but to surrender to the Boers. Churchill was then imprisoned in a POW camp in Pretoria. After being held captive for about four weeks Churchill escaped on the evening of 12th December 1899. He did this by vaulting over the wall to the neighbouring property and taking flight.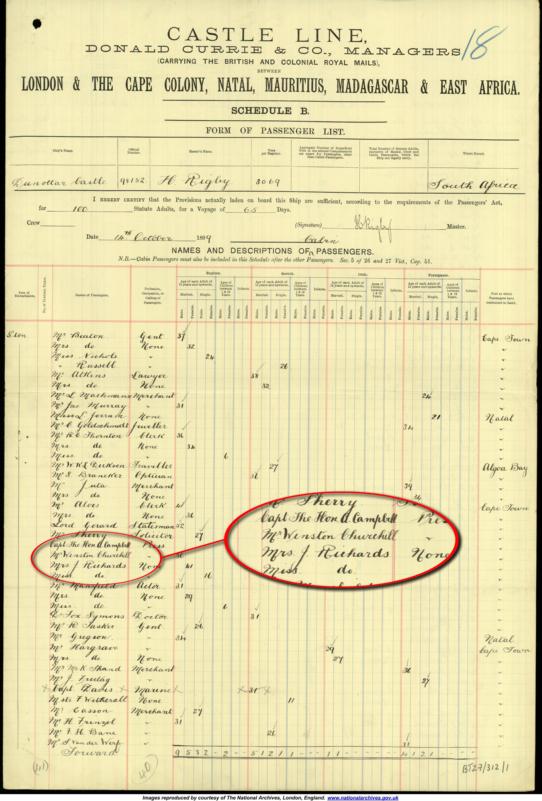 If we look at Churchill's travelling companions on the ship out to Cape Town, scheduled to take 65 days, we can see that he was sailing with a mixture of merchants, a jeweller, an actor, a Peer of the Realm (Lord Gerard), an optician and a couple of lawyers. The Hon A. Campbell was also listed, he was another member of the press corps who had made it on to that particular Castle Line sailing to the war zone with Churchill.